Security Tip: Coronavirus Scams
March 11, 2020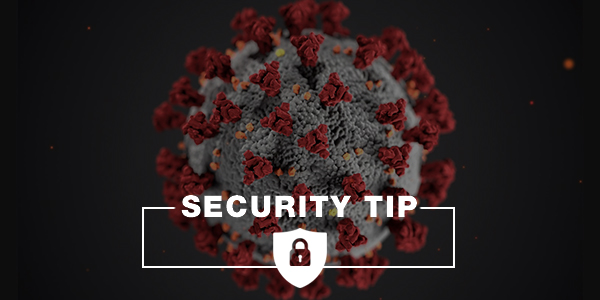 With the Coronavirus (COVID-19) sweeping the world, it is also propelling scammers to prey upon fears as a way to steal your information. Be on the lookout for the scams below and use the tips provided to keep your information safe during the Coronavirus scare.
Examples of the types of scams you should be on the lookout for:
Emails that appear to be from organizations such as the CDC (Centers for Disease Control), or the WHO (World Health Organization). Scammers have crafted emails that appear to come from these accredited sources, but they actually contain malicious phishing links or dangerous attachments.

Emails that ask for charity donations for studies, doctors, or victims that have been affected by COVD-19. Scammers often create fake charity emails after global phenomenons occur, like natural disasters, or health scares like the COVID-19.

Emails that claim to have a "new" or "updated" list of cases of Coronavirus in your area. These emails could contain dangerous links and information designed to scare you into clicking on the link.

Cybersecurity researchers have also identified several fake COVID-19 tracker maps. Hackers started by circulating links to malicious websites disguised as COVID-19 tracker maps through social media or misleading emails.  When people open these sites, they are directed to download and open an application.  Everything appears normal to the end user, the displayed map is even loaded from a legit online source.  In the background the malware compromises the computer and starts collecting information stored in web browsers, including browser histories, user IDs, passwords, and even cryptocurrency keys.
Cybercriminals will commonly associate their attacks to highly publicized news stories or events.  Be cautious and gather information from reputable websites or resources.  Allowing web browsers like Chrome, Firefox, Edge or Safari to store passwords is putting you at risk.
Remain cautious and always remember the following to protect yourself from scams like this:
Never click on links or download attachments from an email that you weren't expecting.

If you receive a suspicious email that appears to come from an official organization such as the WHO or CDC, report the email to the official organization through their website.

If you want to make a charity donation, go to the charity website of your choice to submit your payment. Type the charity's web address in your browser instead of clicking on any links in emails, or other messages.
For more great information on how to avoid these Coronavirus scams, visit the US Department of Homeland Security CISA (Cybersecurity and Infrastructures Security) website at cisa.gov/coronavirus.
Security Information Courtesy of KnowBe4