Internet for business
Get speed and reliability – day in, day out
Business Internet Plans
Your business relies on staying connected. We get that. That's why we provide internet plans with unmatched reliability, speed and support to keep you up and running at all times.
50 Mbps
---
GOOD for basic business connectivity
Up to 5 devices
Symmetrical speeds
Unlimited data
MOST POPULAR
250 Mbps
---
BETTER for streaming video, working from home and POS systems
5-10 devices
Symmetrical speeds
Unlimited data
500 Mbps
---
BEST for ecommerce, video-conferencing and running cloud-based apps
10-20 devices
Symmetrical speeds
Unlimited data
1 GIG
---
OPTIMAL speed for data backups, hosting multiple servers and high-performance cloud connectivity
20+ devices
Symmetrical speeds
Unlimited data
Looking for an enterprise solution? South Slope offers symmetrical internet plans up to 10 Gig!
Expect More From Your Internet Provider
Ridiculously Reliable
Get fast speeds and unmatched reliability on our underground fiber network. All plans feature equal upload and download speeds which is essential for how you do business.
No Gimmicks
We believe in straightforward pricing and no annual commitments. You can change your internet plan at any time without penalty, making it easy to stay on budget and scale your business.
Support You Deserve
We're here when you need us. As a South Slope business customer, you have priority support with access to our teams any time of the day or night.
Managed Wi-Fi – $9.95/mo
Managed Wi-Fi means unmatched speed and performance, day-in and day-out. Not only that, but South Slope provides unlimited 24/7 remote support to ensure you're always running at full speed. We'll provide the router and handle all router support including reboots, updating firmware and more. Simply put: it's all speed and no hassle. Ready to get started? 
Order Service Call 319-626-2211
Managed Wi-Fi is available to South Slope small business internet customers. Some restrictions may apply; please call for details.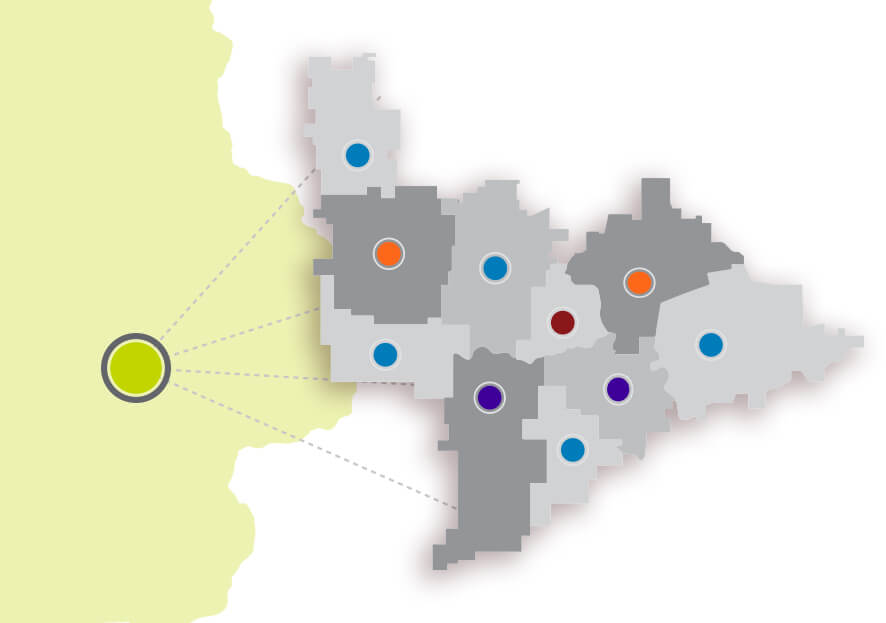 Coverage Area
We serve the following communities: Amana, Ely, Fairfax, Newhall, North Liberty, Norway, Oxford, Solon, Shueyville, Swisher, Tiffin, Watkins, Walford, West and South Cedar Rapids and parts of Coralville.
Plans require South Slope fiber optic connection. Plans and speed for copper subscribers will be based on your specific location; call for details. Plan not available in all areas. Speeds may vary. Taxes, fees and some restrictions apply.
Does your business need fiber?
Futureproofing with fiber internet
Fast speed. Super dependable. Legendary reliability.
We're continually expanding our fiber network to bring you ridiculously reliable internet. Interested in bringing fiber services to your business?
Why South Slope?
Expertise. Local. Service.
Over 60 years ago, we set out with one goal: connect Eastern Iowa with the best communication services possible. Today, that goal remains the same, even as our team and service offerings have grown. We're proud to be the only cooperative non-profit provider in the Corridor, working diligently for our customers by providing ridiculously reliable service, day in, day out.
Crushing Spotty Coverage
We deliver ridiculously reliable internet. No fine print. No gotchas. No gimmicks.
Community Support
Thanks to our co-op model, we're proud to invest back into our community.
People & Community Come First
Goodbye automated customer service! Here, it's all real people dedicated to customer service.
Unrivaled Customer Service
Newsflash: working with your provider should be a positive experience.
What our customers are saying