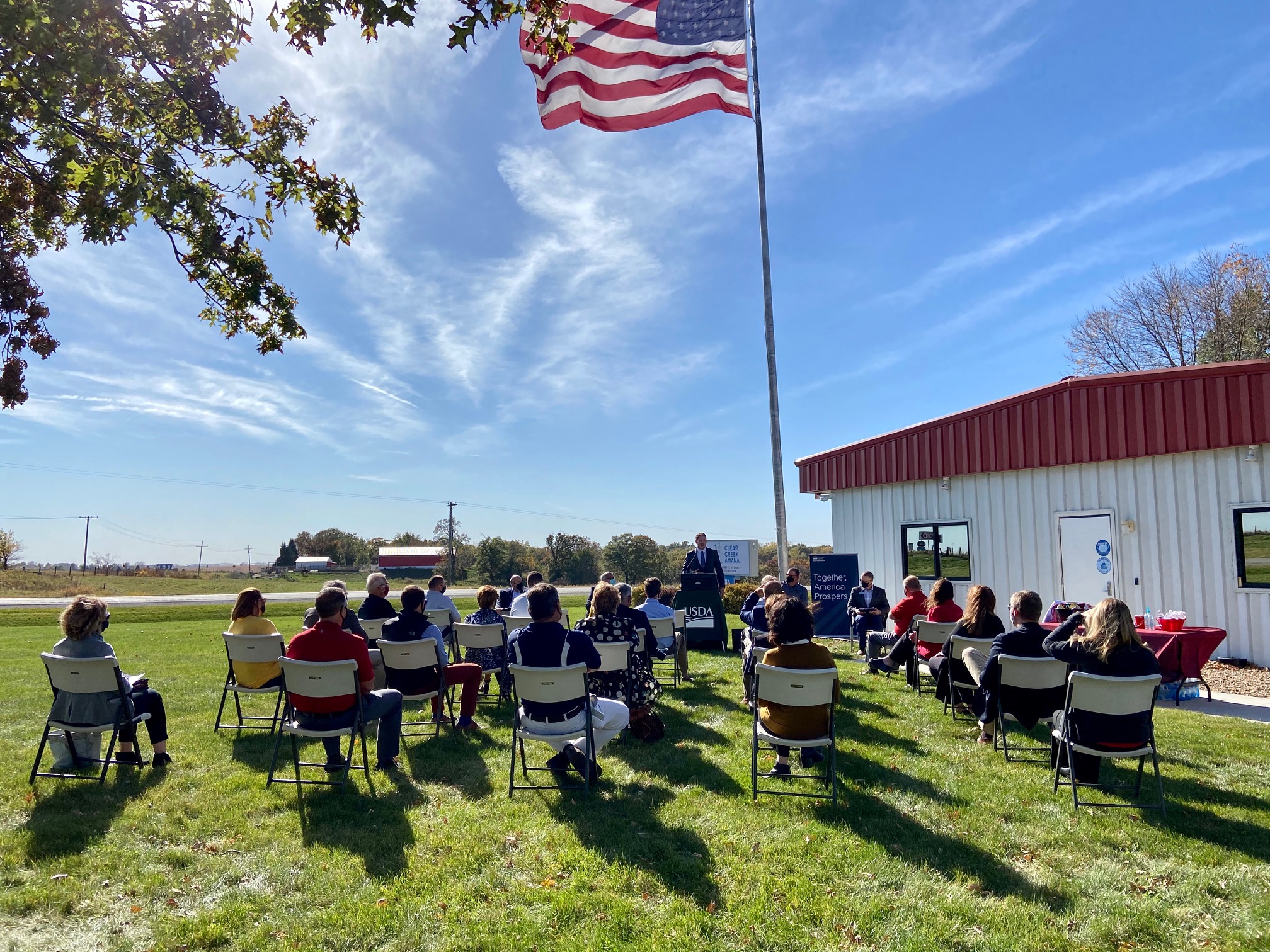 South Slope Receives $5.4 Million for Rural Fiber Network Build
Oxford, IA – (October 14, 2020) – South Slope Cooperative Communications received $5.4 million in funding to extend their fiber services to rural Oxford. They held a gathering outside of the Clear Creek Amana Administrative Office, Tuesday, October 13th to announce the project.
South Slope was awarded support through the ReConnect Program from the U.S Department of Agriculture. This program offers unique federal financing and funding options in the form of loans and grants to facilitate broadband deployment in areas of rural America that don't currently have sufficient access to broadband. South Slope's funding will be in the form of a $2.7 million grant, while the other $2.7 million will be through an RUS loan.
"The expense that goes into building fiber networks, especially in rural areas, is extremely high and is often cost prohibitive," said Chuck Deisbeck, CEO at South Slope. "But, in an effort to serve our members, we never stop looking for opportunities to apply for grants and assistance."
Fiber optic technology will enable South Slope customers to access ultra-fast internet with speeds up to one Gigabit (1,000 Megabits per second), which is 50 times faster than the average residential internet connection. Fast, reliable internet speeds enable customers to download content faster, stream 4K video effortlessly and connect multiple devices – all without sacrificing performance.
Bill Northey, Under Secretary for Farm Production and Conservation at the USDA, State Senator Kevin Kinney, Clear Creek Amana Superintendent Tim Kuehl, and Chuck Deisbeck spoke at the event. State Representative Amy Nielsen, State USDA Representative Tom Jensen, and Iowa Communications Alliance CEO Dave Duncan were also in attendance.
For more information on the ReConnect Program, please visit www.usda.gov/reconnect.
About South Slope Cooperative
South Slope Cooperative Communications (www.southslope.com and www.southslope.com/business) provides industry-leading communication and entertainment services, including broadband internet, phone and TV, for homes and businesses. South Slope is recognized by the NTCA—The National Broadband Association as a Smart Rural Community leader and a Certified Gigabit-Capable Provider. Since 1958, the Cooperative has been committed to delivering cutting-edge telecommunications services. South Slope services 555 square miles in East Central Iowa and the backbone of its service offering is an extensive fiber network, which includes 1,250 miles of main line fiber optic cable.
###
For more information or to schedule an interview with a company representative, please contact:
Shane Von Holten
Marketing Manager
319.626.2211