We can do almost everything via email these days. Answers to some common email questions are below. If you don't see your question or need further assistance please contact us.
How do I get to my South Slope email?
Click the following button or go to email.southslope.net
Enter your email address and password.
Email: example@southslope.net
Password: Password you chose or were provided.
How do I change or recover my password?
To change your password go to southslope.net/login and click on the Key
If you need to reset or recover your South Slope email password, call us 24/7 at 319-626-2211 or live chat with us weekdays between 8 am and 4 pm. Automated password reset via the website is not available.
Third party email client Support:
South Slope provides customer support for email access, retrieval, and password issues for South Slope email only. South Slope does not offer advanced troubleshooting for third-party email clients, such as Outlook, Apple Mail, and Windows Mail. To access your South Slope email account via these email clients, you will need to set up a connection with the following details:
Incoming Mail Server: imap.southslope.net
Security: SSL
Incoming server port: 993
Outgoing mail server: smtp.southslope.net
Security Type: SSL
Outgoing server port: 587
How do I export my email contacts?
Step 1 – Select the Addresses Tab
Step 2 – Scroll to the bottom of the page until you see Address book export
Step 3 – Select the options for how you want the addresses separated then click Export to CSV File at the bottom right. Follow any prompts to save to your computer.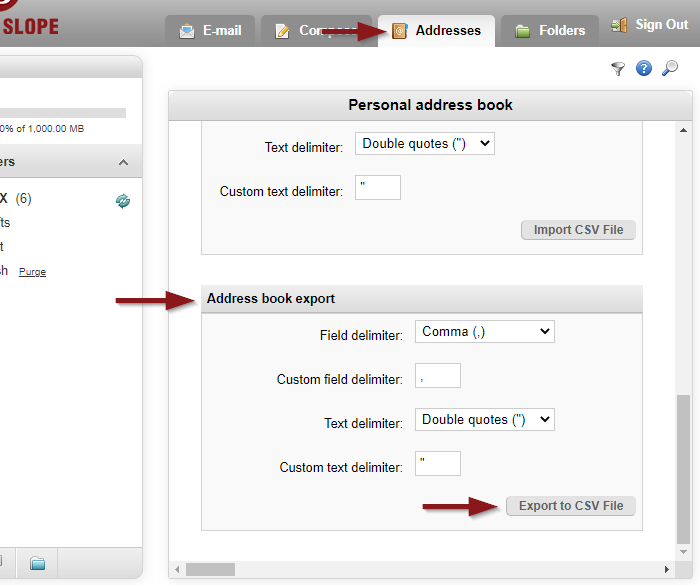 Is my inbox full? Why am I not getting any emails?
If you are not receiving emails, it's possible your mailbox is full. You can check the Quota bar at the top left.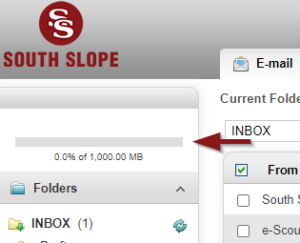 To free up space, you can purge your Trash folder or delete old sent emails.

Check the number of items in your Sent folder at the bottom right.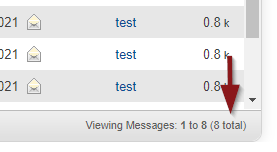 Can I increase my mailbox size?
The base email storage space for your South Slope email account is 1 GB. If you wish to increase the amount of space, following are the monthly charges:
2 GB – $2/month
4 GB – $4/month
8 GB – $6/month
16 GB – $8/month
Why can't I send an email attachment?
The most common reason is that the attachment is too large; 50 MB is the maximum message size. Following is an example of how the size of your attachment will be displayed.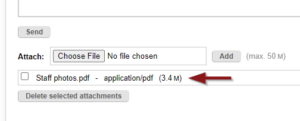 Where is my spam folder?
Your spam emails can be found under the eScout tab.